Learn more about your suspension
Welcome to Chuck's Towing
Chuck's Towing of Morro Bay was established by professional and experienced towing experts who wanted to bring the highest quality of towing services to their community.
It began as a small company several years ago. Dedication, hard work, honesty and commitment turned it into a professional emergency towing company. Today, we are one of the leading towing providers in the Morro Bay and surrounding areas.Read more...
I was locked out of my vehicle at the beach, with my dog, miles from home. I called Chuck's Towing and response time was impeccable. The driver unlocked my vehicle and didn't even charge me. Driver was also very helpful providing me with a locksmith. I eventually found my key fob. I highly recommend!!!!
Super friendly driver and arrived on time. Took care of me and my truck!! Give them a shot if you need a tow!
James was super kind. Ran out of gas on the free way. James showed up within 10 minutes and gave me a discount. I was back on the road in a jiffy - vacation saved. Thank you, James!
AAA tries to send another company and I always ask for Chuck's. Best services and friendly service. The are always as fast as can be and super helpful. They even jump started my car when I was broke and let me pay the next day. A most reliable, honest and affordable place to do business.
Towing & Roadside Assistance
Your satisfaction is our top priority!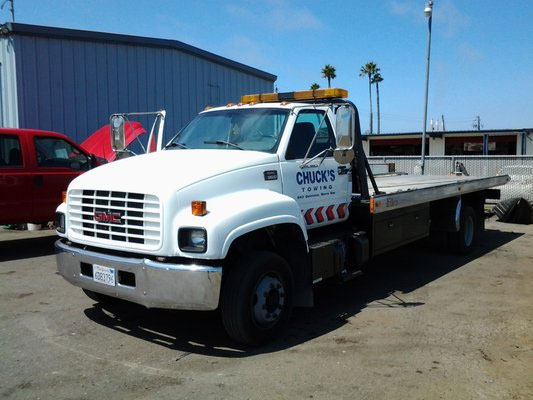 Call us for an appointment at (805) 772-4641, or stop in and see us at the first sign of trouble! Let us keep your car safe, and ready at all times to move your family to its destination!
The safety of your vehicle, passengers, and yourself hinges on the condition of your brakes. Proper brake maintenance is not merely a choice but a… Read more